Dear Zeus,
I came across your blog the other day, and I was really quite confused. At first, I saw your profile picture, and I thought, "Surely this isn't someone who thinks he's a cat." However, as I read the posts, I began to understand that you honestly do think you are a cat.
Zeus (whomever you really are), I hope you understand why I won't be linking to you. I just can't have crazy people represented on my blog. Don't comment again on my posts either. It's all too weird.
Sincerely,
Simon
P.S. What is it with your stupid signature anyhow? We all know that's not your paw. It was clearly made using Microsoft Paint.
-----------------------------------------------------------------
Dear Simon,
You claim to be confused, but I do believe I am the one more confused than you. You see, I
am
a cat, and I can't just stop
being
a cat. Believe me, I have tried! However, there just comes a point in your life where you have to accept who you are, and I have done that a long time ago. I wonder how comfortable you are in your own homo sapien skin, Simon.
Are you intimidated by my whisker humps? I realize they are quite large and manly, but I cannot help this part of my being. After all, I
am
a cat. Perhaps it is my long, striking tail that throws you into fits of jealousy? I hadn't figured you for tail-envy, but I can only assume that this might be part of the reason for this vicious assault. I am not a
homophobe
(a.k.a., a creature afraid of homo sapiens), but you seem to be a
catophobe
.
I don't know why you question whether or not
I took out a stuffed kangaroo named Cangura
in my living room or whether or not
I really utilize the scientific method
when it comes to my human pet. Is it so hard to believe that I might encourage a particular ceramic kitty named Blackie into
a drinking spree
or that I am knowledgable when it comes to
chakras
? Perhaps it's even harder to swallow that
I am actually a world traveler
, and I happen to know Phil Keoghan personally. I think you're simply jealous of my accomplishments, my accolades, my sheer tenacity, and of course, my intelligence.
If you choose not to link to me, then that is your choice. I don't recall asking you to link to me. I understand you have an image you need to maintain. In the wide world of blogging, my kind and I are like
Veggie Boca Burgers
presented in the line-up of
McDonald's
along with
Big Macs
and
Quarter Pounders with Cheese
. I know you don't have a place for me on your so-called
menu
, and that's ok. Sooner or later, though, you will have to make room for all the other crazies like me.
I'll help you out in advance. Title your blogroll:
V.B.B.
That way, no one will know you're associating with the mighty Veggie Boca Burger Blogosphere.
Sincerely,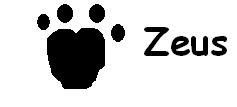 P.S. The scanner I utilize regularly would not accept my plaster mold of my paw print, and I was forced to improvise. You caught me: I
did
use
Microsoft Paint
for my signature. I would like to think that it is a very close representation of my paw based on the original mold, but I can certainly upgrade it. Thank you for inspiring me, Simon!