Opposable thumbs are overrated. - Zeus

Greetings, Zeus fans! My name is Radioactive Jam and-- well, I am not a cat, as far as I know. That's not my real name, of course. See, I wanted my very own dot-com internet domain, and ethelbert.com was unavailable; I had to go with my second choice. But enough about me! We're here to celebrate the one-year anniversary of The Zeus Excuse.

The human "owner" said Zeus wanted me to compose an anniversary post for him. As readers here soon learn, Zeus can be pret-ty persuasive when he throws his weight around. Could I say no? I could not. So I hope you enjoy this special tribute post written for the one and only Zeus, the super-sized ego feline extraordinaire without whom this weblog would surely slim down need a new name be "diminished."

You don't need thumbs for typing. Spacebar? It is to laugh. - Zeus

Zeus claims he started a weblog to spread "advice, humor and joy" among feline friends. Sounds almost noble and altruistic, doesn't it? That's Zeus, all right; never thinking of himself, always putting the other cat first.

Dogs are obsessed with thumbs; cats couldn't care less. - Zeus

Cats have a reputation for holding themselves aloof, and Zeus is no exception to the rule. Zeus is cool, unfazed by events swirling around him. He has neither need nor time for trivial, shallow amusements; he's a Busy Cat with Important Things to do.

Do I look like I care? - Zeus

One of the things keeping Zeus busy this past year: extensive travel. Showing his signature modesty - not! - Zeus calls his travelogue The Amazing Zeus. It is pretty amazing, and not just because major world governments haven't yet realized how far his reach extends. They'll learn soon enough I am sure.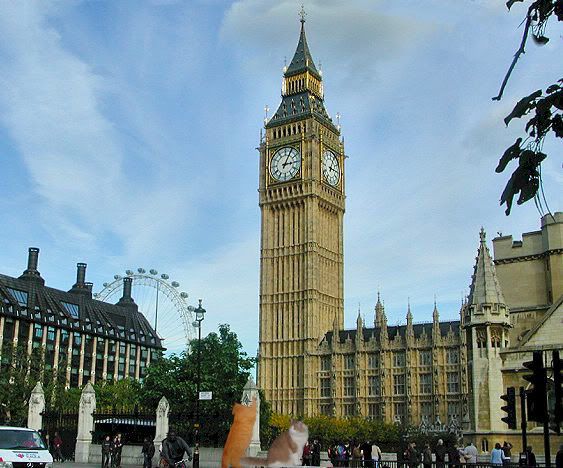 You don't need plans for world domination when you're already in control. - Zeus

Speaking of learning (and control), we humans should never underestimate a cat's ability to "manage" its environment. If one thinks a little thing like not having opposable thumbs will slow down a clever cat like Zeus, perhaps one needs to think again.

Doorknobs impede me? DOORKNOBS?! HAHAHAHAHahahaha! purrrrrr! - Zeus

Zeus portrays himself as an invincible, haughty overlord. Okay sure, that pretty much applies to all cats, and - let's face it - they're basically right. Still, one might find lovable "weaknesses" in the feline aura... if one knows where to look. Suppose I were to tell you that deep down, Zeus is just an old softie looking for a little affection and attention, not unlike a lot of human "owners?"

One word, humans: Photoshop! - Zeus

In closing I'll pass along a few words from an actor-friend of Zeus, pictured below in one of his many famous movie roles. Here's what he had to say about Zeus:

We're still trying to explain to Zeus why he shouldn't take "human" as an insult.