The phones have been ringing off the hook! Would you believe how many famous people want to be involved with
Miss Litterbox, 2007
? I was astounded to know that the competition had captured the hearts and minds of so many actors and actresses, singers, and
Cirque du Soleil
entertainers! After speaking with each and every last person who called, I have decided on three celebrities to act as guest panalists for the pageant.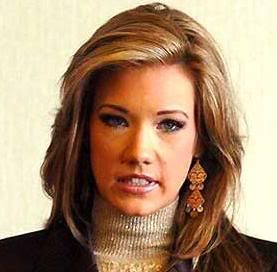 Katie Rees, Former Miss Nevada USA 2007
Ms. Rees called me late Wednesday evening. She was deeply concerned about pageant security and whether or not audience members would be allowed to bring camcorders, digital cameras, and
Motorola Razors
of any color. I informed her that it was strictly an online pageant only, and she seemed to relax immediately.
She exclaimed, "In that case, get me a Jack-and-Coke and a sexy mama to snuggle with! I'm in!"

Vanessa Williams, Former Miss America 1984
Ms. Williams and I spoke early Thursday morning. She broke into tears shortly after our conversation had started, stating: "I just want to prove to people that I still got it." When I informed her that the competition was strictly for felines, she seemed to regain her composure quickly; however, I mentioned I would love to have her as a celebrity guest panalist.
"As long as that Katie Rees isn't a guest, count me in. I'm the original queen of scandal, and I don't need some wanna-be all in my business."
Empress Kukka-Maria, The Original Miss Litterbox
From late Thursday evening to early Friday morning, Kukka and I discussed how she would participate as a celebrity guest panalist.
"I need one cosmopolitan at 8:00 am, followed by a bottle of
Grey Goose
at 8:15. Nap at 9:00, and oh, of course, fluffing commences at 11:30, and -"
I cut her off: "Kukka, you do realize this contest is online, and in no way, shape, or form am I going to be there, waiting on you hand and paw. I don't mind if you drink while you look at everyone's gorgeous photos, but you'll be doing it from the comfort of your own home."
After three minutes of silence in which I thought she had passed out from her latest trip down Booze Lane, she replied, "I'm in."
Remember, femme felines
:
You have until midnight tomorrow evening to post your photos! Make sure to leave a comment on the Miss Litterbox, 2007 post. Your comment should include a link to your photo.
GOOD LUCK!