This is part three of a four-week series concerning writers who have found themselves to be challenged concerning their work but who have overcome such criticism to become acclaimed successes. If you wish to read part one, click here
and for part two, click here.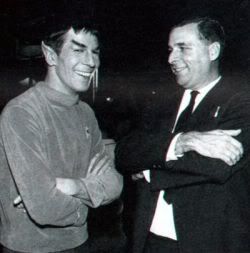 When a man from El Paso, Texas, named
Gene Roddenberry
came up with the idea for
Star Trek
, television executives hadn't known what to think. It had taken Roddenberry nearly two years of negotiating before
NBC
agreed to the show. Roddenberry made not one, but two pilots, and the show premiered on September 8, 1966.
In the final season, Roddenberry had offered to take a job with less pay in the hopes that his show could be moved into to the time slot he had wanted. Unfortunately, the audience was lacking, and after three seasons of low ratings, NBC pulled the plug on Captain Kirk and his brave crew. When NBC had not offered to work with Roddenberry on moving the show's slot, he accepted a job as a staff producer at
MGM
. His work with MGM, however, did not last long thanks to his first and only project entitled
Pretty Maids All In a Row
.
Working with
Paramount
, Roddenberry produced
Star Trek: The Motion Picture
, but after attempting to pitch a sequel involving the John F. Kennedy assassination, he was moved to simply a consultant position. Though he was allowed input regarding the scripts and details,
Harve Bennett
(Roddenberry's replacement) was allowed to not accept Roddenberry's suggestions, and Bennett took full advantage of that clause.
Today, Roddenberry's fans are global, numbering in the millions. Through their support, he was able to secure his own star on the
Hollywood's Walk of Fame
. He even has an asteroid and a crater on Mars named after him! He passed away in 1991 leaving a legacy of science fiction, exploration, and discovery to millions.
To find out more about Gene Roddenberry, please visit the following sites:
STARTREK.COM: Biography
The Musuem of Broadcast Communications: Gene Roddenberry
PhilosophySphere.Com