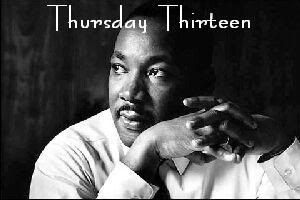 Thirteen Ways To Celebrate Dr. Martin Luther King, Jr. Day
1. Have your children work on an Internet scavenger hunt focusing on Dr. King.
2. Watch Dr. King's famous speech, "I Have a Dream", at American Rhetoric.
3. Let your tastebuds discover the joy of "soul food" and traditional cuisine with some African-American food and recipes.
4. Here's a fun word search with vocabulary concerning Dr. King.
5. Discover what your children think is a hero with a quick survey and discuss with them a hero's attributes.
6. Take a short quiz to see how much history you know concerning Dr. King.
7. Make a donation to The King Center in Atlanta, Georgia.
8. Learn how Dr. King's holiday came into being with this chronology.
9. Explore this photo essay on Dr. King by Time.com.
10. Learn ten ways to teach tolerance.
11. Pick up A Testament of Hope: The Essential Writings and Speeches of Martin Luther King, Jr.
12. Send a free greeting card to friends and family.
13. Perform an act of service for someone in your community.