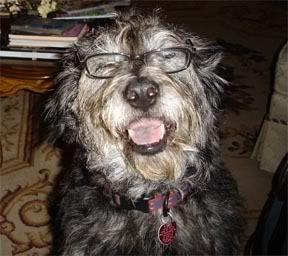 According to
Stanley Coren
, author of
The Intelligence of Dogs
, there are three distinct types of intelligence for canines:
1.
Adaptive Intelligence
- The dog's capacity for learning, his problem solving ability, and memory
2.
Instinctive Intelligence
- inherited areas of behavioral specialization that are unique to each dog
3.
Working / Obediance Intelligence
- the overall trainability of the dog
A survey was conducted by canine trainers to determine which breeds were the most intelligent. Canine trainers ranked the breeds by how quickly a dog could learn a new command (less than five repetitions) and how often they obeyed the first command given. The brightest breeds are as follows:
1. Border Collie
2. Poodle
3. German Shepherd
4. Golden Retriever
5. Doberman Pinscher
6. Shetland Sheepdog
7. Labrador Retriever
8. Papillon
9. Rottweiler
10. Australian Cattle Dog

In the same respect, the so-called dumbest dogs are:
1. Shih Tzu
2. Basset Hound
3. Mastiff / Beagle (tie)
4. Pekingese
5. Bloodhound
6. Borzoi
7. Chow Chow
8. Bulldog
9. Basenji
10. Afghan Hound
If you're curious as to whether or not this is true, why not try performing
the IQ tests
at home with your own canine friend? Coren has graciously uploaded his tests online, and they come with video demonstrations to make your life easier. Feel free to post your results here.