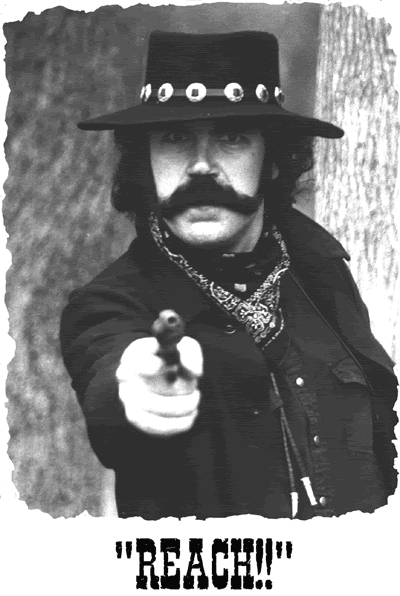 All I want for Christmas is an official Red Micer carbine-action 400-shot range model BB rifle with a compass in the socket. Can you not just see it? I could be the fastest shot in the west! Aiming at criminal mice in the front yard, picking them off one by one with my wicked trigger claw!
'Take that, Black Bart!'
I'll say, and ol' Black Bart's knees will tremble!
Is that really too much to ask for? I certainly don't think so! However, I don't seem to be getting much support from the ones who supposedly love me. Several weeks ago, I attempted to make my interest known to the human pet during breakfast. "What do you want for Christmas, Zeus? You know, Santa Claus will be coming soon," she said with a smile. I couldn't contain myself and before I knew it the words were out of my mouth as quick as lightning: "IwantanofficialRedMicercarbine-action400-shotrangemodelBBriflewithacompassinthesocket." I wish now I could take it all back for the human pet simply shook her head as she placed my food in front of me, saying, "No way, Zeus. You'll shoot my foot off."
Shortly after the kitchen incident, I saw on television a contest being held by the Red Micer Company. All you had to do was write a theme of 1000 words or less on why you wanted an official Red Micer carbine-action 400-shot range model BB rifle with a compass in the socket for Christmas. I, of course, immediately took up my pencil and began to furiously scribble away. Tell me this was not a winner:
I checked my mailbox everyday to see if perhaps I won. (Granted, checking the mailbox means waiting for the human pet to bring in the letters and assorted weekly fliers, but I digress.) I sorted through every single piece of written communication only to find I had received no response. Then, several days ago, I received this correspondence:


Too short? No opposable thumbs? Shoot my human pet's foot off? Was this some sort of conspiracy against me? If I couldn't win the gun, I would have to find some way to get in touch with the man himself: Santa Claus. After all, he would surely know that I had been a good little kitty all year long, and he would recognize how deserving I was. All I needed to do was figure out a way to get to the mall, but that was almost easier said than done.
Yesterday, I had my mind set to embark on the adventure. I knew it would be a tough journey, but I had thought that with a little luck, I would make it to the mall, locate Santa Claus, let him know of my most precious wish, and be back in time for dinner. It almost went off as I had envisioned.
Early in the morning, I had printed out every picture I could find of the big, jolly man and scattered them around the house for the human pet to find. When she woke up, she almost slipped on the pieces of paper as she stumbled into the kitchen for her morning coffee. As she started to pick them up, she muttered, "This isn't subtle, Zeus. I get it. You want to see Santa Claus." I nodded, and she said, "I never knew you to be one for the malls, but alright. Get in the carrier, and I'll get your leash."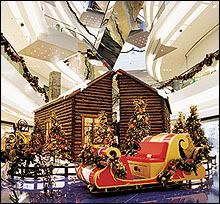 An hour later, we were off to the mall! As the human pet carried me in her arms, I was astounded by all of the sights and sounds of the holiday season. Carols streamed through the air, people walked briskly in and out of the stores, and everywhere you looked, there were colorful displays of wreaths, trees, and delightful lights. As we turned a corner, however, I could see a long line of children with their tired parents and a rather obtrusive gingerbread house at the far end. I caught the smallest glimpse of red velvet trimmed in white, and my excitement flooded over me!
Santa!
I leapt out of the human pet's arms and dashed for the man! The human pet screamed, "Zeus, wait! Get back here," but I didn't have time. This was my only shot, and I had to take it. Surely, the human pet would understand, wouldn't she?
Weaving in and out of the children and darting away from the shocked and bewildered parents, I ran to the front of the line. As a little girl with pigtails got off of Santa's lap, I jumped into the air and landed upon him.
Santa gazed down at me with his bloodshot, glassy blue eyes. He smelled of Jack Daniels, and his beard was more than a bit unkempt. I looked passed all of it as I gazed into his eyes. He said with a drunken slur, "Umm, ho, ho, ho! I didn't know cats visited with Santa! Where's your owner at, little one?"
"AllIwantforChristmasisanofficialRedMicercarbine-action400-shotrangemodelBBriflewithacompassinthesocket!!!"
Santa sat back in his chair and furrowed his brows. "Why do you want that, kitty? You'll shoot your owner's foot off."
Noooooo! Santa put me back on the ground and as the next child stepped forward, I made my way back to my human pet. There was no hope now. Not even Santa Claus would give me the very object of my desire.
The human pet picked me up off of the floor and stroked me behind the ears, but I couldn't even muster the will to purr. "Did you get to tell Santa Claus what you wanted for Christmas, Zeus?" I said nothing. The tears simply would not come. Even as we rode home in the car, my soul was null and void.
There's no way I'll ever get a Red Micer carbine-action 400-shot range model BB rifle with a compass in the socket now.