While laying on the back of the couch last night, a commercial came on which I had never seen before:
I was really intrigued, and who wouldn't be? If the geekiest of homo sapiens can out do
Nick Lachey
by using
Axe
products, then certainly, this could work for tomcats too! Perhaps finally, those tomcats without proper tools in the box could finally compete against those rougher, fully equipped, toms. Axe could be our salvation!
Turning to the human pet who lay below me, I quickly used my coveted
cover and smother method
to get her to stand up. She choked and spat, flailed her arms at me, and yelled, "Zeus, what is your problem?!" I simply raised my paw and pointed at the television where the emblazoned Axe symbol was still shimmering on the screen. The human pet turned her head to look at me again. "Are you serious? You want Axe body spray?" I nodded solemnly.
With a deep sign, the human pet picked up her keys, and about one nap later, she came back with some Axe for me. However, she had messed it all up by buying the shower gel! It was too late though. I had to try it! I needed to know! It was my duty to
William
,
Moose
,
Miles
,
Victor
,
Beau Beau
,
Fat Eric
,
Rascal
, and so many other toms out there to discover the truth!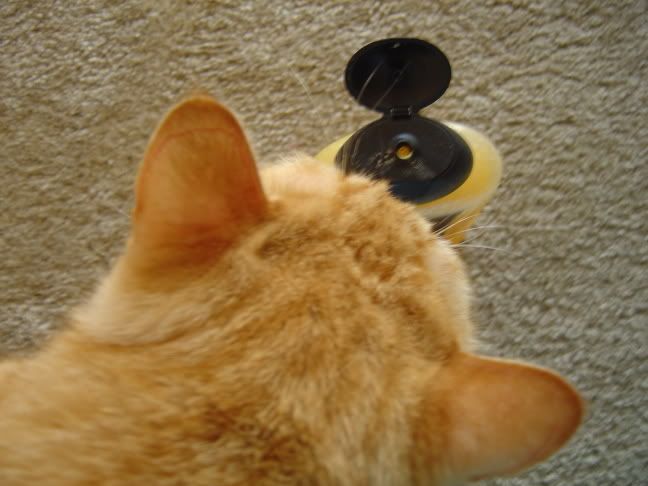 I rubbed the gel all over my body, and then I sat there.
A few moments later as I lay in my new found glory of Axe shower gel, my sister, Isis, came padding up to me and said, "What do you have all over you? Is that some contagious disease? It looks like you're bleeding yellow goo!"
Rolling my eyes at her, I exclaimed proudly: "Hmph. I'm attempting one of my greatest experiments yet. If this succeeds, tomcats, proper toolboxes or not, will all be able to woo felines from near and far. No longer will we of neutered ranks be forced to cower and hide, taking a backseat to those with hoo-has! No longer..."
Isis' nose hung in the air, sniffing heavily as she said, "Yeah, yeah, whatever, but what is that smell? It smells
so
rugged,
so
musky. Wow, it sure
does
smell good!"
SUCCESS!