I was tagged by
Sam
for this quick and easy book meme!
1. Grab the nearest book.
2. Open the book to page 123
3. Find the fifth sentence
4. Post the text of the next 3 sentences on your blog along with these instructions.
5. Don't you dare dig for that cool or intellectual book in your closet! I know you were thinking about it! Just pick up whatever is closest.
6. Tag whomever you want, or not.
Ok, here we go. The closest book to my desk was
Mirror, Mirror: A Novel
by Gregory Maguire.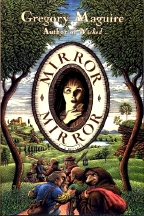 "Take the child from the house, deep into the woods, far beyond where anyone might find her."
"There are woods enough to lose a child in."
"I want her more than lost. I want her life."
I tag the following:
1.
Lilize
2.
Sam I Am
3.
The Meezers
4.
The Crew
5.
Sophie