I have an exciting announcement to make, my feline friends!
The Sphinx of Egypt
has long guarded the tombs of the nation's ancient kings. It has served as a symbol to its people of strength and wisdom. Many tourists visit Egypt every year to see this great marvel, and yet, not one person can answer this one simple, and yet often neglected, question:
Is the Sphinx man or cat?
From the evidence I collected, I believe I have finally answered this crucial scientific debate.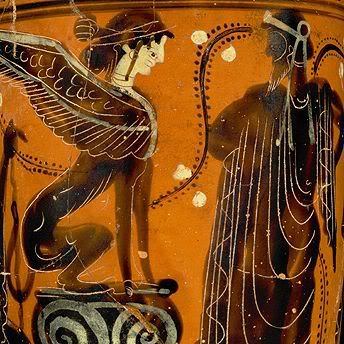 Long before the Egyptian statue was created, the sphinx was believed to be
a mythical monster by the ancient Greeks
.
Oedipus
(known best for having slain his own father and loving his mother
inappropriately
a bit too much) met the magical beast in battle along the high roads of Thebes. The sphinx, described as
"having the body of a lion and the upper part of a woman"
, was cunning as it asked every traveler to the city a riddle, and if the person failed to answer correctly, he was killed where he stood. Oedipus, however, was a highly
intelligent man (all things considered) who faced the Sphinx's riddle and won.
With this in mind, I took a closer look at the pictures of the
Guardian of Giza
. Here we see similarities but a striking difference. The body is still that of a lion; however, the head is that of a man. Also, since it is a man, it is difficult to tell where the lion's body stops and the man's portion begins. Hence, where the Greek version, at very best, may have been 40% human and 60% cat, the Egyptian version is 20% human and 80% cat.
However, as I poured through the documents available to me, I came upon perhaps the find of a century! Nestled in between the dusty tomes found at my local community library, I found this startling and revealing photo: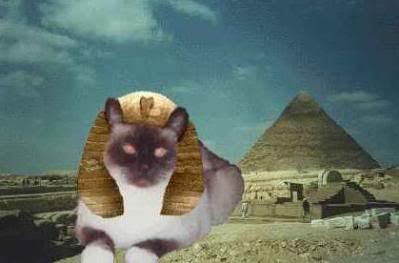 For the first time ever, my feline friends, I can say with absolute certainty that this ages old question can finally be answered. The Sphinx, undoubtedly, is
ALL CAT
! I cannot in good faith keep this revelation to myself any longer, and as a result of this exquisite artifact, I will be sending my research to the
Texas Archeological Society
for further investigation.