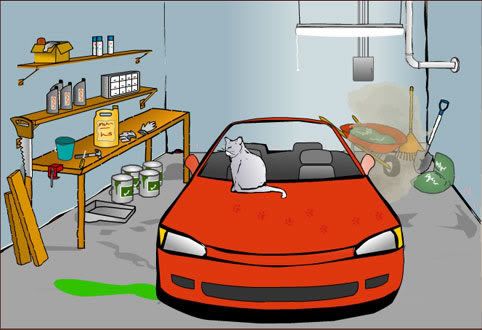 Dear human pet,
I don't know if you've noticed, but I'm not sleeping in the garage anymore. In case you have noticed, let me tell you why: It's freakin' hot in there! It's well over 110 degrees, complete with swallowing, swaggering, and sweltering.
I know you know how hot it is because you have yet to step foot in the garage during the daytime hours. You would rather stay up all night long to complete your laundry than to do it in the middle of the day. I find that utterly ironic considering your clothes come before my needs.
My bathroom needs, that is.
How is it that you expect me to take a decent trip to the litterbox in 110 degree heat? Yesterday, I nearly burned my back paws off pissing into the searing sand, but thank goodness it oxidized before it hit the litter! And let's not forget that all of those noxious fumes from my business just add to the overall blazing broiler that has become the garage. Did you just gag? I hope you did.
Human pet, you will move the litterbox into the house this instant! I will chafe no longer while using my not-so-porcelain throne! I will tolerate the torridity no longer!