[

Received via email

:]
Wassup Zeus,
I heard you were in need of some encouragement for your Blogathon. I'm sending you this videoclip to help keep you motivated:
Remember: You can do eeeet! You can do eeeet all night long!
Craaky
Dear Craaky,
Thank you for the videoclip! I suppose Adam Sandler's portrayal of an unlikely football hero who overcomes a speech impediment, is faithful to his mama, and wins the girl's heart in the end is just about as motivating as it can get. I feel tremendously inspired now!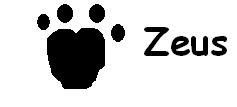 Have a question for Zeus, Isis, or Blackie? Leave it in the comments! By doing so, you'll help our blogging efforts for the next 17 hours!
Want to make a donation for our cause? Click here!