Hi Zeus!!


Wow 24 hours blogging? I don't think I could do that I nap too much. But I do have a question. When and why did you start blogging?
Pixel
Dear
Pixel
,
The story of when and why I started blogging is one for the ages. You see, long ago, in a galaxy far, far away on the swamp planet of
Dagobah
, under the tutoring of
Master Yoda
, I found I was strong in the ways of
The Force
. Under Master Yoda's careful eye, I learned how to lift large objects such as
blasters
,
portable missile launchers
, and
droid starfighters
. However, such chicanery was not enough for Yoda, and he proceeded to instruct me in the secret
Jedi
art of blogging. Though I remain his apprentice eternally, I aim to bring pride to my Master.
Why do I get the impression you do not believe me?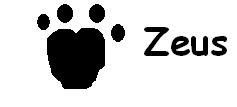 Have a question for Zeus, Isis, or Blackie? Leave it in the comments! By doing so, you'll help support our blogging efforts for the next 18 hours!
Want to make a donation? Click here!