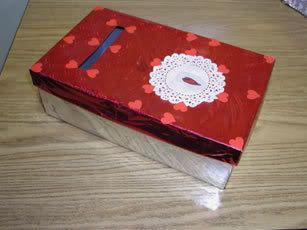 You've gone through all the trouble of saving that one, lone shoebox. You've taken the lid and lovingly cut a one-inch by eight-inch rectangle into the cardboard. You've wrapped brown paper bags, aluminum foil, and any other paper-esque product you can find around your receptacle of self-esteem and designed it with sheer pinks, reds, and whites.
You went to your neighborhood
Walgreens
to buy the most creative, most outrageous, most memorable valentines the civilized world has ever known. You've signed each one with a small paw-print and a personal message to each and every person. You can feel the excitement just building inside of you...
That is, until February 15 rolls around, and you still haven't received one valetine.
Save yourself from that wretched feeling by signing up for
Local Girl's
Valentine's Day Goody Swap
!
You can guarantee that your heart won't be in pieces this year by signing up for the exchange. All you need to do is answer five quick questions related to Valentine's Day. You will then buy for the person who joins the swap after you. All gifts must be received by February 14! No hearts broken this year - no Sir!
Don't let your self-esteem hit the floor this Valentine's Day. Join the swap, and tell Local Girl that Zeus sent you.