This morning when I woke up, I found Isis in the powder room. She had jumped onto the counter and was tilting her head side to side while she gazed intently into the mirror. From my position on the floor, I wasn't too sure what she had found. Whatever it was certainly had her attention.
I decided to leap onto the toilet seat to get a better vantage point. I knew that if Isis hadn't turned around by now, then she was completely oblivious to my presence. It gave me a distinct advantage.
What I saw nearly made my jaw hit the toilet: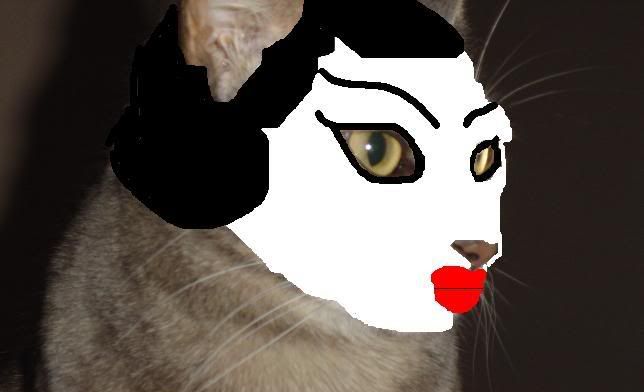 "What in blue blazes are you doing?" I stammered.
Isis turned to look at me, and it was clear she had been tampering with the human pet's make-up bag.
"The human pet is going to kill you! You don't just stick your face in the powder and lap at the tubes of lipstick! What has gotta into you?" I was really concerned by this point that my sister had gone and lost her mind.
But then she said, "You know, for someone who writes a segment entitled
Wooing Females
, you sure are sexist. This is how you seduce males!"
"Says who?" I asked.
Isis leaned back and smirked as she said, "I'm sorry, but pardon me? Have I found something that you do not know about? Please let me know so I can write this down on my calendar."
"Bah! Just tell me!" I cried.
"The Mama and I watched
Memoirs of a Geisha
the other night, and well, that tells you all you need to know concerning the ways of female seduction." Isis appeared rather pleased with herself as she snatched a quick glance at herself in the mirror.
"The ways of female seduction, yes...if you're an
onsen geisha
or even an
oiran
. However, if you're just a
geisha
, you're not seducing anyone, at least not on purpose," I replied.
Isis swirled her head back in my direction. "Did you see the movie?"
"No, I didn't, but,..."
She screamed, "Then you don't know what you're talking about!"
I shrugged and jumped down from the toilet seat. I didn't have to wait long for the human pet to wake up and crawl into the powder room to get ready for her workday. Unfortunately, she had quite the surprise waiting for her. Needless to say, I don't think Isis or the human pet had a very good "Ba-da-da-da-daaaaa, I'm-lovin'-it" morning after that discovery.