Hello, my friends,
Some of you may remember my battle with the evil and ruthless monster known as
Sand Her
. Though Sand Her ended up leaving the property, I have discovered finally what the demon spawn was here for all along:
Our bathroom walls
! Sand Her
eats
bathroom walls!
My human pet for the past few months has kept the door to her master bathroom shut. However, last night, I noticed she had left it open by a small margin. Harnessing the power of my ultra-powerful headbutt, I knocked down the door and walked inside. What my eyes beheld was unlike anything I had ever seen!
It was like walking onto the set of
Jumanji
*
:

Sand Her had come in and destroyed the beautiful wallpaper that was here when we first moved in. It had completely covered the walls in its gooey, green trail, leaving behind a terrible stench so other animals could know Sand Her's territory. My nose crinkled up as I gazed around at the wicked carnage. With all of the tools laying around, it was clear to me the human pet had been trying to fight off the fungi-esque trail; however, she was losing this battle to be certain.

Smiling down at me, she said, "So how do you like the venetian plaster, Zeus? This is just the first coat."

I tilted my head and gave her an inquisitive look. "How do I like it? This is a tragedy! We have to get this off of the walls at once!"

The human pet squinted her eyes and pursed her lips. She picked me up and hoisted me out of the bathroom. I heard the door slam shut behind me, and I quickly turned to paw at it to see if I could save my human pet's life!

"Zeus, I mean it! Leave me alone!"

I'll check on the human pet later today to make sure she's still alive and untouched by the disease-infested fungus. After all, you never leave a human pet behind.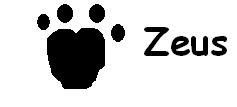 *Having never been on the set of Jumanji, I can neither validate or invalidate the validity of this claim.