On Sunday, August 20, 2003, I was lucky enough to land a telephone interview with Las Vegas' own, Montecore. What follows is the transcript of our conversation: complete and without edit.
Zeus: Let me just say it is truly an honor to be speaking to you today, Montecore.
Montecore: Core. Call me Core. Everyone does.
Zeus: My apologies.
Core
it is then.
Montecore: I was a bit hesitant to appear on your blog, but having been out of the limelight for nearly three years I felt it time to come out of the clos-...err, hiding to clear my name.
Zeus: Clear your name in reference
to the incident
at the
MGM Mirage
on October 3, 2003?
Montecore: Well, of course, but also the rumors in regards to my jealousy.
Zeus: I hadn't heard anything like that, Core. Why would you be jealous?
Montecore: Because of
Siegfried choosing Roy
over me.
Zeus: Fascinating! I had no idea.
Montecore: Let me explain. In 2003, we were performing nearly daily at the MGM Mirage in
Las Vegas
. Night after night, crowds would come to see us perform, and we always brought down the house. However, offstage, my life was hell.
Zeus: Why? What happened?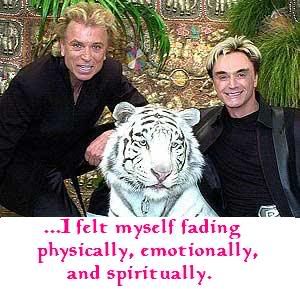 Montecore: I started noticing towards the end of the summer that Siegfried was spending less and less time at my cage. He wouldn't personally feed me. He wouldn't come to tuck me in at night. He didn't even glance in my direction when I walked by him. What hurt the most was we never talked anymore. Between the constant performing and my relatio-…err, friendship dying, I felt myself fading physically, emotionally, and spiritually.
Zeus: That sounds serious! Why didn't you just ask Siegfried what was wrong?
Montecore: How could I when he wouldn't even look me in the eye? I tried to ask Roy if he knew what was up, but all he ever said to me was, "Ich werde dich ausstopfen und auf
eBay
versteigern!"
Zeus: I'm sorry, but I don't speak German. What did Roy tell you?
Montecore: Basically, that he would stuff me and sell me on eBay.
Zeus: Holy Knights of Columbus, that's harsh!
Montecore: Oh, girl, tell me about it. I mean, here I was, stuck in a cage, alone and frightened, and…
Zeus: Umm, excuse me, but I think you may have called me a girl. I'm a guy.
Montecore: Oh yeah, whatever, but listen: So finally, I decided that enough was enough. I was going to find out why Siegfried wasn't coming to my cage anymore. So during the last week of September, I cornered Roy after one of our performances and said, "Where is Siegfried going this evening? I want to come along too. He and I have to…," and before I could finish, Roy smacked me across the whisker humps and said, "Er ist meiner,
Weibstück
!" It was all downhill from there.
Zeus: Do I even want to know what he said to you?
Montecore: Just his typical flames at me. So on that fateful night, I made a decision: I wasn't going to take orders from Roy anymore. If they wanted me to do what they wanted, Siegfried would have to come face me like a man and tell me himself.
Zeus: You know, I can't help thinking that this resembles jeal-…
Montecore: It's
not
jealousy! I just wanted to talk to him! Now, do you want to hear what happened, or are you going to judge me as well?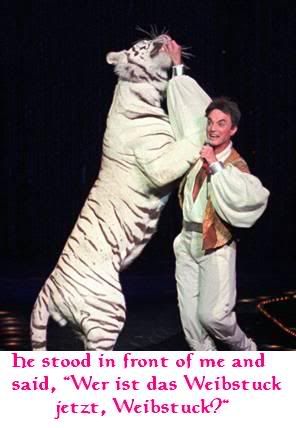 Zeus: I wasn't judging. I was just making an observati-
Montecore:
Anyhow!
So Roy and I were on the stage in front of a packed house. Roy gave me an order to jump onto the glittering pedastal, but I said to him, "I want to see Siegfried now,
bitch
!", and I refused to move. Do you know what he did? He stood in front of me and said, "
Wer
ist das Weibstück jetzt,
Weibstück
?", and he hit me on the nose with his microphone!
Zeus: So
the whole excuse
that a woman sitting in the front row with an ornately high hairdo overwhelmed you is completely false?
Montecore:
Completely
! I wasn't going to have him call me a
Weibstück
one more time! I grabbed at his sleeve and flung him to the ground! The next thing I remember is having three fire extinguishers in my face and being thrust into my cage.
Zeus: Core, I'm so sorry you had to go through that.
Montecore: [
Sniffling can be heard in the background.
] I am too. I miss Siegfried. I miss having him come to my cage at night. I miss having him pet my fur. I miss listening to his gentle voice. [
Painful sobbing is evident.
] It's just too much sometimes. I don't know that I'll ever be able to move on from everything we shar-…err, went through together.
Zeus: I'm sure in time that everything will work out for the best, Core. Things always happen for a reason.
Montecore: Maybe it was so I could meet you. [
Clears throat.
] So what are you doing later this evening?
Zeus: Umm, I'll be sleeping probably. I always sleep in the evening.
Montecore: No matter. I'll give you a call later this week. We'll think of something.
Zeus: I don't know. My human pet doesn't really let me out of the house that much.
Montecore: I'm a 600 lb.
White Bengal tiger
. What's she going to do to me?
Zeus: True. Ok, I'll talk to you later!
Montecore: I hear you're amazing. I'm looking forward to it.