Hello my feline friends and human pets,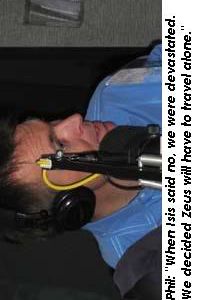 Over the holiday weekend, Phil tried speaking to Isis to see if she would come along with me for
The Amazing Zeus
. He lured her with catnip (much to my dismay), fed her sardines, and even tried snuggling with her on the couch. My sister, however, was not budging. She simply refuses to come along with me.
I'm not entirely sure why she doesn't want to come. She said, "Knowing you, something bad will happen to me." I told her that the
Catolympics
had started with the torch relay. Bangles and Bombay
just finished a trek from Singapurr to London
to pass the torch to Fat Eric. Fat Eric traveled
from London to New Hampshire
to pass the torch to Harper, Ramona, and Brendan. Nothing happened to any of them. They all arrived safe and sound without a scratch on them.
You'd think that would convince her otherwise, but it hadn't.
"You'll say anything to get your way," she said.
Sometimes, her paranoia hurts...
Phil is extremely disappointed. He says that when he saw Empress Kukka-Maria comment on team members, it only seemed natural to include Isis. He worries now that viewers will not tune in for one single cat when it would have been a more captivating experience with the two of us.
"That's just part of the flair of when you have two people, Zeus. You never know how they will interact under stress," he said.
However, I really don't want to travel with stress. I think that it might be alright if Isis just stays here. After all, then I can enjoy myself without having to worry about her or
her silly phobias
.