Dear Zeus,


Has your pet tried the new coffee flavored Coke?


Sammy and Miles Meezer
Dear
Sammy and Miles
,
No, she has not, and she will not. She says that's blasphemous to combine two elixirs of life into one steaming pile of crap. Clearly, as always, she's a bit melodramatic over the whole thing.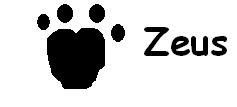 Have a question for Zeus, Isis, or Blackie? Leave it in the comments! By doing so, you'll be helping our blogging efforts for the next 11 hours!
Want to make a donation to our cause? Click here!