Dear Zeus,
Does your human pet know Phil two-timed her by dating someone who had previously been on one of his islands? (Mom was heartbroken too, but decided he wasn't worth it.)
Beau
Dear
Beau
,
Now she does.
Thanks a lot.
She's bawling her eyes out.
Sigh...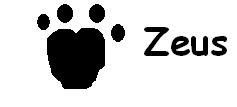 Have a question for Zeus, Isis, or Blackie? Leave it in the comments! By doing so, you will be supporting our blogging efforts for the next 15 hours!
Want to make a donation to our cause? Click here!