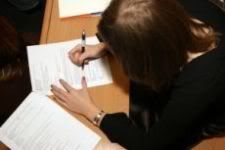 It has been a long and trying semester. Sometimes, I thought I would lose my mind from the utter lack of attention I received. There were days when I did not get fed until 9:00 p.m. The house went completely downhill with slipcovers not covering the couches and dishes piled high in the sink. Let's not forget that our litterbox sometimes did not get changed every day. The atrocities we have lived through will be a haunting memory because...
All of this madness ends tonight.
The human pet takes her final for her Educational Research class. Let's hope she gets an A so we never have to live through this hell twice.