This was originally posted on June 2, 2006, and I'm bringing it forward now as a tribute. It's how I would like to remember Oreo. We will all miss the little tuxie immensely.
- Zeus
Hello my feline and human friends,
The morning started while it was still dark outside. The human pet and I heard a knock on the door, and while the human pet was a bit hesistant about opening the door at five in the morning, I walked down to the foyer and cried until she opened it.
It was Phil!
"Zeus, here is the production crew's credit card. This is to be used for your airplane ticket. You can only buy one set of tickets, and you can only buy or use tickets for coach class. Do you understand?"
I nodded.
"You will need to come with me then as you have a flight to catch. Oh, and hello, Marina."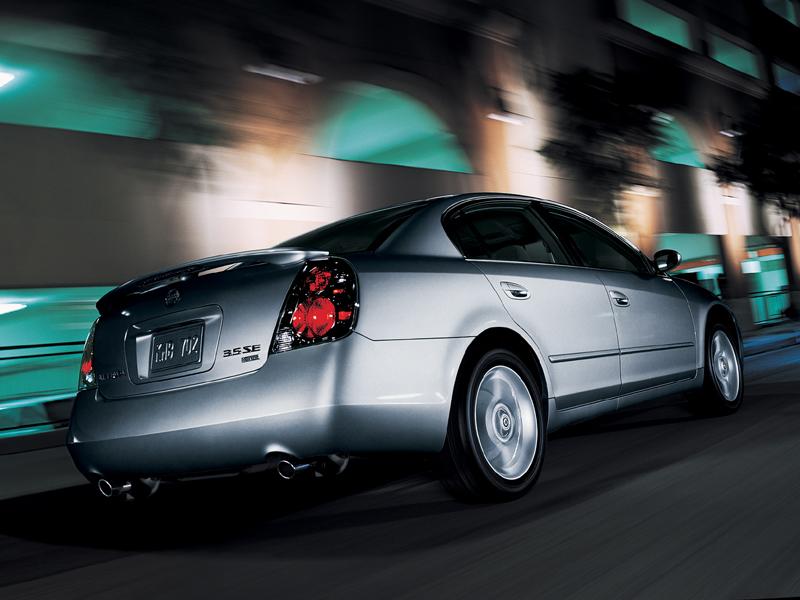 I tried to turn around to say farewell to my human pet, but she had fainted and lay prone on the tiles of our foyer. Instead, I turned to follow Phil to his rental, hopped in the passenger side, and rode pleasantly to the airport.
The flight out to Virginia was very pleasant. I had never been on an airplane before so I was initially a little nervous. I had a window seat, and I could see for miles and miles. It was so very beautiful!
I had to rent a taxi so I could hire some human pet to drive me out to Oreo's house. That was very frustrating, let me tell you! First, no one looked at me even though I threw my paws into the air and cried to the high heavens. Second, if they did pull over, they would almost hit me with how fast they slid against the curb. (It was like they couldn't see me standing there!) Third, when the drivers opened the passenger's door and saw it was me, they would scratch their heads, close the door, get back behind the wheel, and speed off. I finally had to have one of the production crew assist me in getting a taxi. How embarassing to be treated with such indignity, but I can only hope that through these experiences, specieism can be brought to its knees.
But I digress...
When I finally arrived at Oreo's house, I was so very thrilled that my heart was thumping inside my chest! I raced up the path to his house, knocked on the door, and when we saw one another, we nearly lost our voices screaming:
"ZEUS!!!""OREO!!!"
We were both completely drained by the time we finished saying hello, but Oreo invited me in and introduced me to his lovely human pets. I told them thank you for letting me visit and purred against their legs in a sign of good will. However, Oreo did not let me linger and chat - he insisted that I meet his new friend, Mr. Gopher.
I was so happy to see him finally with his own gopher. Everyone should have a gopher they call their own. They are loyal, dependable, cute little creatures, and apparently, they don't require a lot of care. Oreo told me that Mr. Gopher never eats, and we both thought that was extremely shocking since we're hungry all the time.
Just then, there was a knock at the door.
Thwap, thwap, thwap!
"Ohmygoodness! It's Phillllllllllllllllllllll!" screamed Oreo.
Bewildered, I asked, "But how do you know? It might be someone else."
"BecausethisiswhathappenedwithPrincessMiaandIknowitgotstobehim! Woohoo! We'regoingsomewhere!"
Sure enough, we heard Oreo's human lady pet call to us from the front door. We walked over to see who it was, and Oreo had been right - it was Phil!
"Zeus and Oreo, you have $100.00 for this leg of the race. Make sure to read your clue carefully, and be safe on your travels."
Oreo was practically coming out of his fur with excitement so I opened the clue. We read it together:
Make your way to
The Mill Mountain Star
where you will find your next clue.
Oreo asked his human lady pet if she knew how to find the star, and she nodded. She said it was only seven or so miles away, and that if we wanted, she would drive us there. We were very grateful to have her help!
Once we got there, we searched through the grasses and shrubery to find our next clue. It was really hard to find. Oreo, though, is such an amazing feline. He had been in the City of Outside many times before so it was only natural that through his keen senses, he was able to detect where the clue was located.
Anxiously, we read the clue together:
Make your way to
Professor Cline's Haunted Monster Museum and Dark Maze
.
Haunted?! Oreo and I looked at one another with wide eyes, both of us dreading the prospect of visiting a haunted house.
"I don't know, Oreo. What if we don't make it out alive? Phil may have gone too far this time," I said nervously.
"We hafta go, Zeus. If'n we don't go, everyone will think we're scardy cats!"
I knew Oreo was right. We mustered our courage and asked his human lady pet if she could drive us to Professor Cline's house. She nodded with a smile and off we went to explore this bizarre and mysterious abode.
As we drove up to the entrance of Professor Cline's house, both Oreo and I shook in our fur at the terrifying gate. It was devilish and gave us the heebee-jeebees! Who in their right mind would dare step foot through that gate to visit with this lunatic human who
claimed
to be someone of higher educational standards? Apparently, though, there were plenty of homo sapiens who had no problem spending their afternoon with ghoulies.
Oreo and I stepped out of the car and stared bug-eyed at the house.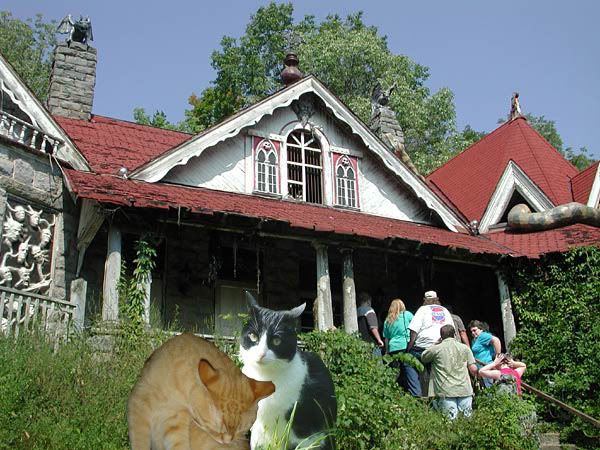 "Oreo, I mean it. I don't know if I can go in there. I would like to be able to return to Houston in one piece."
"Zeus, I don' wanna go in there either, but we hafta. Remempurr: our reputations are on da line!"
With a deep sigh, I knew Oreo was right. "Ok, but let's keep those silly homo sapiens in front of us. That way, if anything should happen, they'll go down first, and we'll have time to react. Deal?"
Oreo turned his head to look at the crowd making their way into the house. "Good thinking. They can be our human shield!"
With that we entered into the spooky house.
We jumped at every noise, hissed at every creak, and spat at every monster that lunged at us! I thought I was going to be a hairless sphinx by the time we managed to get out of there! At one point, we both thought that we would be eaten by a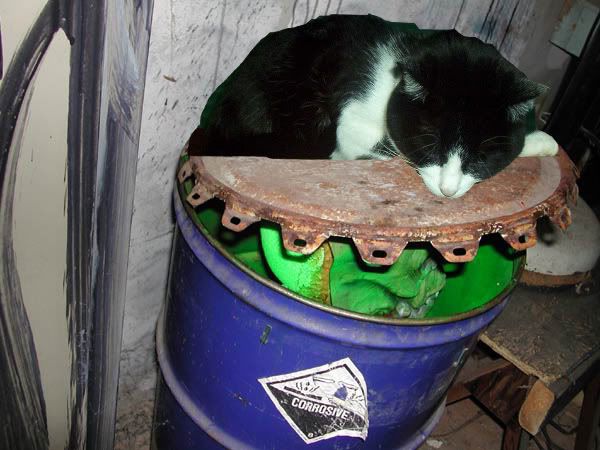 green goblin that was trying to get out of a trash can, but Oreo put all of his weight down on the top of the trash can to protect us. I'm here to tell you - that Oreo is one brave kitty!
When we finally managed to get out of the house, I thought I was going to pee all over myself. I was never so happy to see the bright sunlight streaming down or smell the green grass beneath my feet. Oreo said he had never seen a house so maniacal, and he was too terrified to go back inside. I didn't blame him! I never wanted to step foot into that frightening palace again! It was horrible!
Shaking and covered in goose-...catbumps, we made our way back to Oreo's human lady pet once more. "Did you two have a good time?" she asked sweetly.
We shook our heads vigorously side to side. "Awww, poor kitties," she said and gave us both scritchins. "It's time to take Zeus to the airport, though, so let's all get inside the car and make our way there."
I think I trembled with terror all the way from Virginia to Texas...
Overall, I must say that my time in Virginia with Oreo and his human pets was absolutely fantastic. However, I never EVER want to go back to Professor Cline's Haunted Monster Museum. I feel I have been traumatized enough from my horrific experience!
Thank you for your hospitality, Oreo, and thank you Oreo's human lady pet for driving us everywhere we needed to go! I will always cherish it!